Book of Abstract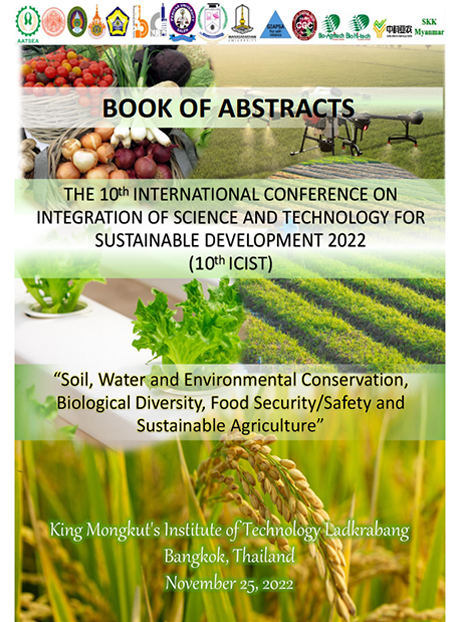 Presentation
Presenters must present with the power-point presentation with an video-recording.
File must be saved with MPEG-4 Video (.mp4)
Announcement
Invitation
On behalf of the Organizing Committee, I cordially invite you to participate in the 10th International Conference on Integration of Science and Technology for Sustainable Development 2022 (10th ICIST 2022) which will be scheduled in November 24-26, 2022. The theme of the Conference is "Soil, water and environmental conservation, biological diversity, food safety and sustainable agriculture". The venue of the Conference shall be at Faculty of Agricultural Technology, King Mongkut's Institute of Technology Ladkrabang (KMITL), Ladkrabang, Bangkok, Thailand.
Although COVID19 situation worldwide has declined, and Thailand has opened the country, the conference will still be organized both onsite or face to face for Thais and for those who want to visit Thailand and online as oral presentation (MP4) through Webinar-Zoom.
Please note that this INVITATION is done to facilitate your attendance to the conference. It does not imply any financial assistance.
Thank you very much for constantly support to AATSEA.
Yours sincerely,
Kasem Soytong
President
Final Annoucement
Call for papers
INTRODUCTION
The sustainable development goals (SDGs) are formulated by United Nations with interrelated goals to guide global development between 2015 and 2030. We must work together to drive the solutions through high quality of research contribution in the society. The Association of Agricultural Technology in Southeast Asia (AATSEA) has been organizing the International Conference on various topics in biological science, technology in agriculture and related fields that is needed for sustainable development of human being. AATSEA realizes its responsibility to serve the community by providing education, research and development in biological science and technology, particularly in the multi-disciplinary aspects. Accordingly, this conference will be held in order to initiate an international network among academic members, researchers, scientists and people interested in science and technology. It is also aimed to serve as a venue for knowledge exchange and discussion among those seeking for new vision and insight in all topics related.
Due to COVID19 situation worldwide has declined. Thailand has normally opened the country. The conference will organize both onsite and online Webinar-Zoom. The conference will explore various topics in the following sessions:
Session 1: Agricultural extension, education and development
Session 2: Animal, Fisheries Sciences and Entomology (Marine biotechnology)
Session 3: Biological Diversity and Microbiology
Session 4: Digitalization in food and agriculture system (precision agr./ Smart Agr)
Session 5: Food Security, food Safety, Science and Postharvest Technology
Session 6 : Plant and pest management
Session 7: Soil and Environment, Water conservation
Session 8: Organic Agriculture
Call for papers
The organizing committee cordially invite you to submit the abstract of your paper. The submission form and abstract (300 words) of A4 form are available for downloading at www.aatsea.org. Academics, researchers, scientists and all those involved, in one way or another, in various topics shall submit abstracts through online submission (www.aatsea.org). The full manuscript maybe submitted for publication in the International Journal of Agricultural Technology (IJAT). Paper to be submitted should follow the instructions to authors of International Journal of Agricultural Technology (IJAT) and it shall undergo peer review process before finally accepted for publication. Please note that IJAT is indexed in SJR-Scopus indexed journal, Q4.
Schedule of activities:
March 2022 : The 1st Announcement
May 2022 : The 2nd Announcement
July 2022 : Final Annoucement
Not later than 15 July 2022 : Early registration
Not later than 15 August 2022 : Abstract submission
Not later than 15 September 2022 : full manuscript submission
November, 24, 2022 : desk registration at conference venue
November, 25, 2022 : conference day
November, 26, 2022 : Field workshop in organic agriculture
For further inquiries, please contact ICIST secretary email : aatsea.icist@gmail.com
Submission/Registration
Paper Submission
Submission on EasyChair system
Registration
Please kindly make payment directly into any of our accounts below:
Bank Name: Bangkok Bank Co.Ltd., Thailand
Address: 999 Tambol Bangpree Yai, Amphur Bangpree, Samutprakarn province 10540, Thailand
Swift Code: BKKBTHBK
Account Name: AATSEA
Savings Account No: 862-013355-6
Please send money transfer document to ICIST secretary : through email: aatsea.icist@gmail.com
Please contact us if you have any question. Please kindly send us, an e-mail after making payment and attached documents (if any).
venue&hotel
venue&hotel
Venue
Conference venue : KMITL Central Library, King Mongkut's Institute of Technology Ladkrabang (KMITL), Ladkrabang, Bangkok, Thailand
Hotel:
Hotel reservation : The participants must reserve hotel accommodation by themselves. Please kindly make hotel reservation near Suvarnabhumi airport and King Mongkut's Institute of Technology Ladkrabang (KMITL), Ladkrabang District, Bangkok, Thailand
Suggesting hotel :
For further inquiries, please contact ICIST secretary email : aatsea.icist@gmail.com
Contact
Any Questions, Please Be Kindly Directly Forwarded ICIST Secretariat.
Email:
aatsea.icist@gmail.com